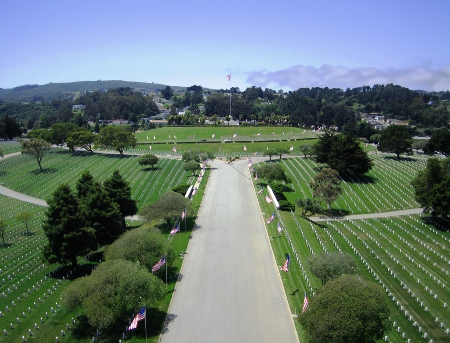 When BR and I lived in San Francisco, I would drive past the
Golden Gate National Cemetery
on my way to work. Each day I would take note of the large American flag flying near the intersection of interstates 280 and 380. A flag at half staff meant that another soldier had lost his life, most likely in Iraq. Another family shattered. There were months when I never saw the flag reach full staff.
As I passed the cemetery, I would say a brief prayer of thanks to the brave people who make up our volunteer armed forces, and to the families who support them. And most of all, I would pray that our leaders would understand what a great gift a strong military force is -- to be used sparingly in the preservation of our country and its citizens.
There is a lot of evil in this world, much taking the form of people with power operating under selfish motivations. My sincerest hope this Memorial Day is that every US citizen can honor those we have lost to war by upholding the highest of ideals that this country represents. To excel at charity and the humanities, as well as enterprise and sport. To find time to impart expertise, and to learn from experts. And to listen -- really listen -- to the messages that the planet and its people so desperately want us to hear.